WELCOME TO YOUR HOME AWAY FROM HOME AT
WeatherPine Inn
---
Right from the start we both fell in love with WeatherPine during our stay here. The atmosphere and charm of WeatherPine made our stay memorable. When we found out that WeatherPine was up for sale we quickly decided that this was the lifestyle we had been looking for in one of the most picturesque communities in Canada. Our previous careers have always had us dealing with serving the public and now we can do so in the manner that we would like to be treated. We have immersed ourselves in the 
Niagara-on-the-Lake
 community so that we can assist you in your memorable stay. We are carrying on the philosophy of no formality but plenty of down to earth comfort and simple hospitality. We look forward to providing you with a full breakfast to get you started on your day and a clean comfortable room and bed to come back to after your day of exploring. We look forward to our previous guests returning as well as meeting new guests and making new friendships.
~Doug and Phyllis Johnson
---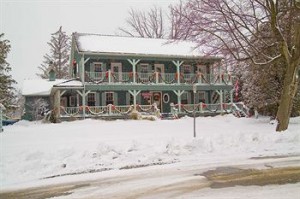 Your reservation with 'WeatherPine' comes with our promise that when you arrive, you will not be disappointed. We guarantee that what we have represented in our advertising is factual, that 100% cleanliness in our rooms, around our property and within our home is our standard and that we have met or exceeded all your expectations.
Should you arrive and feel disappointed in any way, your reservation deposit will be immediately refunded and we will make an 'on-the-spot' effort to find you the accommodations you're looking for.
That's how confident we feel about our home, our hospitality and our ability to make your stay totally comfortable and wonderfully memorable.
© Copyright 2020 WeatherPine Inn. All Rights Reserved.